Recharge Facility
CMRR Materials Characterization Facility 
The facility provides access to an array of state-of-the-art equipment for nanomaterial (both thin-film and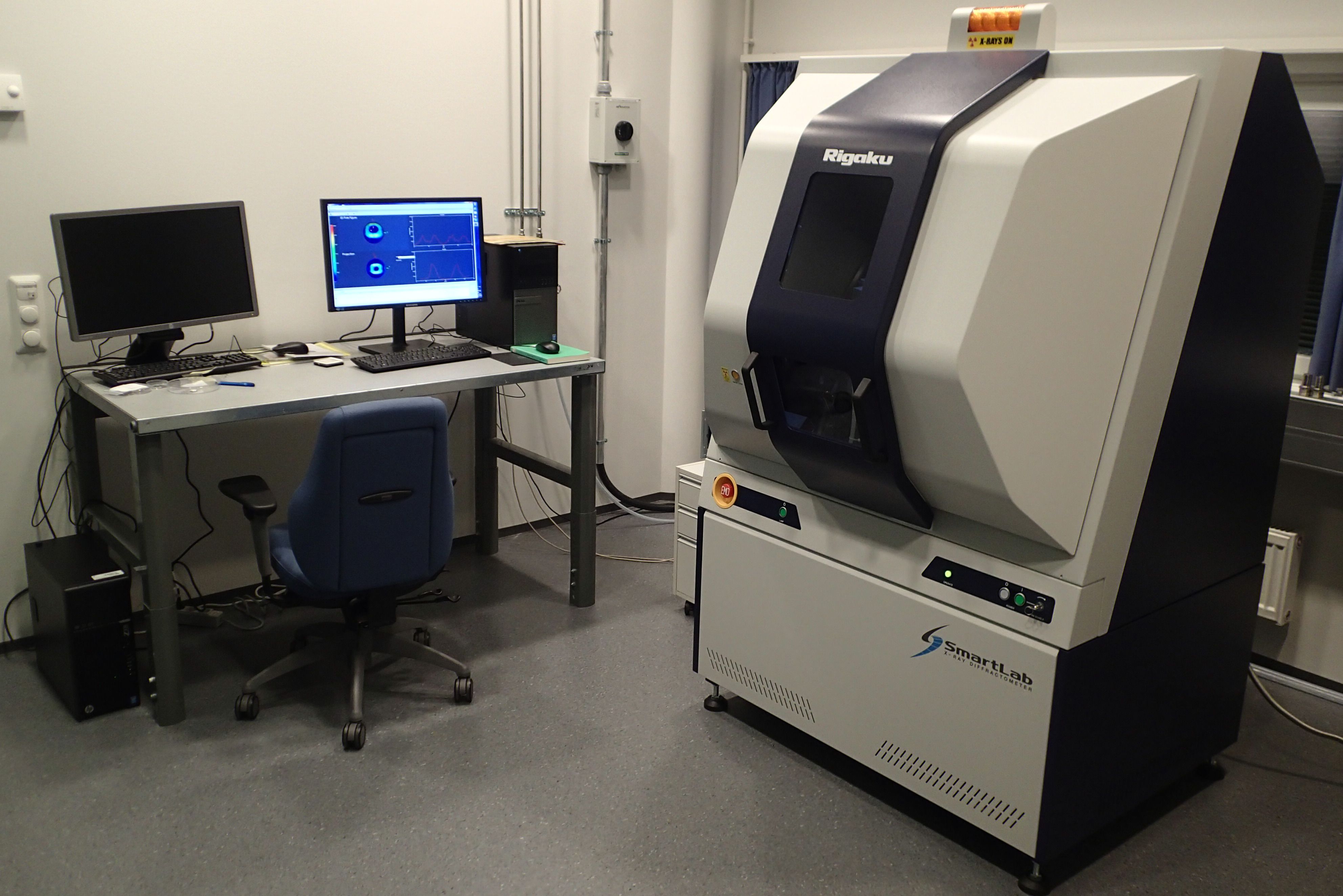 powder) characterization, including XRD, XPS, Hall effect, UV-Vis, AFM/MFM, SEM, and photo current systems to measure crystal structure, and magnetic, surface, transport, and optical properties. 
Hitachi UH4150 UV-Visible/NIR Spectrophotometer (Xiujun Yue)
JEOL JSM-7400F Field Emission Scanning Electron Microscope (TBD)
Kobelco Photocurrent Measurement System (Kenji Nomura)
Lake Shore 8400 Series Hall Effect Measurement System (Mohammed El Hadri)
Panalytical XPert XRD - Line Source (Yasuhiro Kodera)
Panalytical XPert XRD - Point Source (Yasuhiro Kodera)
PHI Quantera Scanning XPS (Yixuan Li)
Bruker D2 Phaser Benchtop XRD (TBD)
Rigaku Smartlab XRD (Hayley Hirsh)
Veeco Dimension 3100 AFM/MFM (Jeffrey Brock)
For training, please contact and schedule a training session with the equipment manager listed next to the equipment pieces above. Each equipment manager will provide new users access to the equipment as soon as training has been completed. 
External Users: follow these external user procedures.
Internal UCSD Users: to obtain access to our recharge facility and equipment:
Key Code: to obtain a key code to enter our CMRR Recharge Facility, email CMRR Admin and copy your supervisor/mentor to request a code.
Make sure you have already taken

 

UC Laboratory Safety Fundamentals

 online course via UC Learning. 

Make sure to schedule a training session with the assigned equipment manager. See list above for assigned manager.
Make sure to read and abide by our CMRR Recharge Facility Policies and Procedures. 
Create an account and request access to the CMRR Facility Online Manager(FOM) application. For this you will need at least one index from your lab principal investigator to get started.
Within FOM, select the equipment piece you need and request access to the equipment piece.
Once FOM equipment access is granted, user will be granted access to make reservations. 
When using equipment, you will be required to log on to the equipment via FOM. Make sure to log off to end and record your use. 
For any questions, please contact Octavio Ochoa, CMRR Business Officer. 
Equipment Recharge Rates:
 Equipment
 

Internal Users Hourly Rate

External Users Hourly Rate

 Hitachi UH4150 UV-Visible/NIR Spectrophotometer

      $20
      $40
 JEOL JSM-7400F Field Emission Scanning Electron Microscope
      $15
      $30

 Kobelco Photocurrent Measurement System

      $30
      $60

 Lake Shore 8400 Series Hall Effect Measurement System

      $40
      $40

 Panalytical XPert XRD - Line Source

      $20
      $40

 Panalytical XPert XRD - Point Source

      $20
      $40

 PHI Quantera Scanning XPS

      $30
      $60

 Bruker D2 Phaser Benchtop XRD 

      $30
      $60

 Rigaku Smartlab XRD

      $25
      $50

 Veeco Dimension 3100 AFM/MFM

      $30
      $60
 Training Charge
      $40
      $80